---
Selby and Ron, childhood friends, business owners and entrepreneurs founded HoliSpheres in 2009. HoliSpheres were truly born from creativity and ingenuity. What started as a Christmas light ball project with Ron's son who was 4 years old at the time, evolved into many prototypes with coat hangers and other materials. After these first materials proved to be unsuccessful, Ron took the initial prototypes to Selby who then transformed the prototypes and created even more functionality in the design. Selby a craftsman and production designer by trade, used hand cut plastic and designed the molds to what HoliSpheres are today. Now after 14 years from the initial light ball project, HoliSpheres is a patented product, proudly made and crafted in the USA.
The Original HoliSpheres – Each set contains three sizes of HoliSpheres: 10", 12" and 14" . Each ball consists of a Patented three ring system that fit together quickly and easily. These Holiday Light Balls add dramatic decoration to either indoor or outdoor environments. Simply wrap your HoliSpheres with string lights and hang or lay them in your yard or house. The serrated outer edges of the rings help grab the string of lights as you wrap your HoliSphere.
They make great themed decor for Restaurants, Weddings, Parties and Barbecues! HoliSpheres are a breeze to assemble and disassemble packing flat when you are done!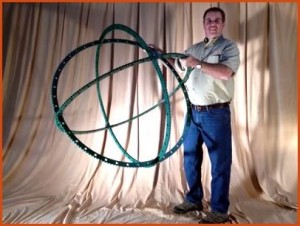 The Really Big HoliSpheres – REALLY BIG HoliSpheres are designed for large retailers, convention centers, outdoor concerts and large spaces. Available in 2′, 3′ and 4′ diameters. Available in Green or White. Really big HoliSpheres are so easy to assemble, you don't even need instructions! No Tools Required.
The 36″ HoliSphere fits in a 6″x 6″x 26″ box!
Assemblying HoliSpheres is easy as 1, 2, 3. See the process step-by-step.
---
Assembly of your HoliSphere couldn't be any easier!
---
Slide the inner notches of Ring #2 over Ring #1 and Position Ring #2 until it is seated in the notches of Ring #1.
---
Place the notches of Ring #3 over both Ring #1 and Ring #2.
---
Slide Ring #3 over #1 and #2 until the notches are seated. You have fully assembled your HoliSphere!